The Best Pin Trading Boards at Magic Kingdom in 2019
Pin trading is one of our favorite pastimes, but it can be frustrating when all the cast members seem to have identical pins on their lanyards. But, don't fear. We've compiled a list of the best pin trading boards at Magic Kingdom! Looking for more locations? Head over to our original article with our favorite secret spots all over Walt
---
Pin trading is one of our favorite pastimes, but it can be frustrating when all the cast members seem to have identical pins on their lanyards. But, don't fear. We've compiled a list of the best pin trading boards at Magic Kingdom! Looking for more locations? Head over to our original article with our favorite secret spots all over Walt Disney World.
Frontierland Trading Post Board
This is probably the most well known of the bunch! Frontierland has a pin trading store, called the Frontierland Trading Post. There are two counters in the store, but the board is usually at the longer counter in the back. Because so many pin traders frequent this store, we've found some great pins here! (But, we'll admit, sometimes this board has almost nothing good).
Adventureland Treasure Chest
This pin board is one of the most hidden in Magic Kingdom. When you walk into Adventureland, head over to the covered shops near Aladdin's Magic Carpets. There is a black treasure chest at the checkout area next to the Jasmine and Aladdin Meet and Greet. If it's not there, ask a cast member! They can usually bring it out for you.  Inside, there is a miniature magic carpet that has pins on it! This is one of our favorite locations to find rare Disney pins.
Since these shops are often overlooked, the treasure chest frequently has some great pins inside of it!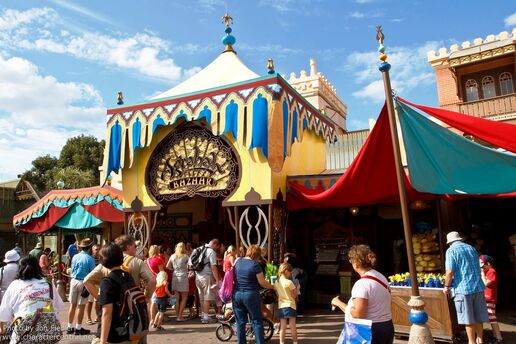 guest services pin book
This might be the best pin trading location in Magic Kingdom, and we're almost sad to give it away! At guest services near the entrance of the park, there is a large pin book with a huge selection of pins, including some rare ones! Wait in the line and ask the cast member to see the pin book. You won't be disappointed with what you find in this one!
Momento Mori Pin Book
In one of the newest, and spookiest, shops at Magic Kingdom there is a hard-to-beat pin trading board. It's actually a book, and it's kept behind the register. Ask a cast member to see it, and they'll bring you what looks like a wooden book. But, open up the cover and you'll see it's hollowed out! This book generally has about 15 pins in it, so it can be good, or bad, depending on the day.
Emporium Pin Boards
This is a fact we learned recently: at every major counter at the Emporium there is a pin board! So, not the small ones you'll find in some of the storefronts, but the longer or more main "register counters" there are pin boards! One of the counters had a pin hat when we were there, and one had a pin sword.
On busy days, you might have to wait in the queue to see the pin boards. This is definitely okay to do, and they won't mind you taking up a minute or two of their time!
Stroller rental
This is a super easy spot to hit, because you are guaranteed to pass it when you enter the parks! Head up to the front desk of the stroller rental under the train station, and ask to see their pin board. It's a fairly large board and early in the morning we've found some good pins!
Mickey's gift Station
While this isn't technically in Magic Kingdom, it's right outside at the Transportation and Ticket Center! There's a small gift shop called Mickey's Gift Station, with a huge pin board! This board is really a hit or miss, since not many people know about it there might be good pins on it. But, likewise, there may be the same not-so-great pins for days at a time. Definitely check it out if you have a little extra time before you enter or leave the park!
Tony's Town Square Restaurant
After you enter the park, head over to City Hall and walk to the check-in desk of Tony's Town Square Restaurant. Behind the desk they have a pin board in the shape of a dog bone, and it's one of our absolute favorites. Relatively no one knows about this board, so you're bound to find some good pins here!
Wrapping It Up
We hope you find some good pins at this location! If you try them out, let us know what you think below. And, if we missed any of your favorite boards let us know and we'll add them to our next list!